Did You Know?
Comparison: Class I vs. Class II & Class III Railroads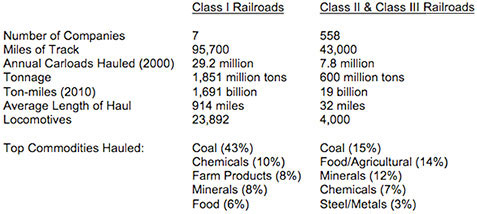 Source: "Maintaining a Track Record of Success" – Funded by the soybean checkoff
Class I Railroad – a railroad with an operating revenue exceeding $398.7 million. Seven Class I railroads operate in the United States: Burlington Northern Santa Fe Railway, CSX Transportation, Kansas City Southern Railway, Norfolk Southern Railway, and Union Pacific Railroad. Canadian National Railway and Canadian Pacific Railway are also considered Class I due to their significant trackage in the United States.
Class II Railroad – often called a "regional railroad." Class II railroads have operating revenues between $31.9 million and $398.7 million.
Class III Railroad – often called a "short line railroad." Class III railroads have operating revenues of $31.9 million or less.